What's included?
500+ pages of transcribed music
Guitar methods (eBooks) 'Concepts for Solo Guitar Performance', 'Neo Soul Guitar 101'
TAB, notation and annotations for all examples
Exercises and arrangements
Unlimited access to all current and upcoming transcriptions
Music theory Q/A
Get access to all our online resources by signing up for a account. If you sign up for the year it works out to $10 discount a month.
The monthly membership will be renewed automatically. You can quit the monthly membership everytime and the yearly membership every year.
Level
Price
Chord Yoga (monthly)
$5.00 per Month.
Select
Chord Yoga (1 Year)
$50.00 now.
Membership expires after 1 Year.
Select
---
How to create a distinct musical mood with subtle yet impactful arrangement choices.
Play now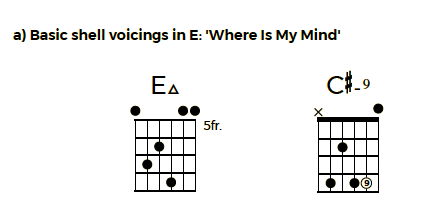 Shell voicings are a type of chord shape that includes all the chord tone 'categories' which define the sound of
Play now
Complete Transcription of Bill Frisell's solo on W. C. Handy's classic "St. Louis Blues".
Play now